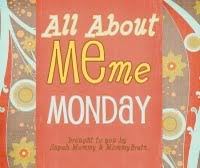 What's your most favorite part of your home?
Is it a special reading nook?
Is it the broom closet you hide in ?
Is it your drawer pulls in the kitchen that took 34 years to re-do?
Is it your deck on a summer night?

Show us in a picture and tell us in words.

What's your most favorite part of your home.
---------------------------------------------
Aside from the fact that our house is too small (no guest room for our many out-of-state visitors), and we need new carpet and counter tops, I really love our home. In just one weekend, and without a Realtor, we found it and put a contract on it ... and then I flew back to VA to finish the school year and sell the house there. It was a crazy time, but, for a move from one coast to another, I think it went as smoothly as possible.
Now, almost four years later, there are so many things I love about our home ...
CPV is so very talented when it comes to woodworking and home improvement. He made the built-ins in our family room, the tall book shelves in our living room, the glass-top side tables, and a dresser and bed for NHV. His work is meticulous and beautiful, and I know I'm lucky!

Our front porch is what first caught my eye when we saw the photo online. It doesn't have the trapezoidal columns I was dreaming of, but it's very classic and cozy. The porch swing makes it feel like the country - in the middle of suburbia.

The girls' bedrooms were a fantastic creative outlet for me during my pregnancies. The idea for the nursery came to me in a dream. It was passed down from NHV to CJV almost completely unchanged. It is my favorite place to spend quiet time with my babies. In that room I am surrounded by little labors of love created by family and friends from 7 different states. Each letter was painted by someone and sent to decorate the room. I've had several friends use the same idea in their nurseries.
Natalie's big girl room become my obsession during my second pregnancy. I wanted to get her moved so I could reclaim the nursery but I also wanted to give my firstborn something truly special. I couldn't be happier with the end result. Here's one photo, but if you haven't seen the whole thing, I suggest
clicking here
to read an entire post about it :)
There's a lot to love about this little house ... not the one on the prairie ... but the one here in the NW that's walking distance to a Starbucks and the market and several playgrounds.
---------------------------------------------