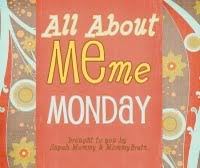 Whether your date was the man of your dreams
or just the guy who finally wore you down,
tell us about your Prom night.
Whether you were treated to surf-n-turf or Value Meal #5,
tell us about your Prom night.
Whether you put out or just wish you had,
tell us about your Prom night.
The good, the bad, and the ugly ... dress.
We want it all!
-------------------------------------
We'll choose a favorite! Best story / picture wins their choice of
copy of Pretty in Pink the DVD or the Pretty in Pink Soundtrack
courtesy of Supah.
You MAY do a homecoming pic etc.
Just has to be a DANCE story / pic.
-----------------------------------------------
This is the perfect prompt for this week ... which explains why I chose it.
I've just spent the entire weekend with my BFF from high school. It just so happens that Missy and I also went to prom together. Well, not together. We weren't quite that nerdy or desperate or ahead of our time - depending how you look at it.
We each had a date ... sort of. Perhaps it would be more accurate to call them our guy friends who we roped into taking us so we wouldn't look completely pathetic as each other's date. Well, that's not exactly true either because Missy's "guy friend" would've done just about anything to be her actual date. Now that I think of it, Missy was so Molly Ringwald and Dave was her Ducky! Oh, I am so jealous!
I accepted Curtis' invitation dragged my nerdy but very good friend Curtis because I had a college boyfriend (my now husband) who couldn't (or wouldn't) take me to my high school prom. Curtis never would've attend prom if I hadn't insisted we go as friends. It was a win-win :)
All of that is a loooong story.
Let's get to the dresses ...
Notice the common theme? Jewel tones and metallic.
Mere coincidence? Great minds thinking alike? Carefully sculpted plan?
I honestly don't remember, but didn't we make quite the pair ...
Silver and Gold. Silver and Gold.
And yes, look closely, we wore full-length metallic - mine silver, hers gold - gloves and matching pumps. Heck, I am pretty sure we each had a metallic clutch to complete the ensemble! Each dress had its fair share of metallic detailing, too. We were decked out! If only Missy had gotten that gold tooth we joke about now ;)
The thing is we both still really like our dresses. I would totally wear it again. I'd probably ditch the ridiculous silver accessories, but I'd rock that short little skirt and plunging neckline, especially now that I actually have some boobies!
Aside from our fabulous sense of style, we don't really remember much about the event. We had dinner at a restaurant in downtown St. Louis, the top of which rotated 360 degrees ... pretty cool, huh? I'm surprised we didn't just grab a quick bite at Taco Bell, but I have a feeling Missy's date had something to do with our dinner reservations. He was still holding out hope that she would be impressed enough to change her mind and possibly put out ;) My date, on the other hand, probably didn't even know what "putting out" means, bless his nerdy little heart. (Love you, Curtis!)
The highlight of the evening took place in the elevator. It had a mirrored ceiling ... and no, this is not going anywhere near kinky; get your mind out of the gutter!
In 28 floors of elevator ride, we made several hilarious attempts to take a picture of our reflection in that mirrored ceiling. Of course, this was way back in the day when cameras had film and had to be advanced before snapping a second shot. It's a miracle we actually succeeded ... of course, we didn't know that until we took the film to be developed! But we did, and Missy has the evidence tucked away in some photo album at her house.
While neither of us remember dancing, I am sure we shook our groove things and probably even gave our dates a thrill with a slow song or two.
Ah, prom. If we had to do it all over again. We would.
And I don't think we would change a thing.
---------------------------------------
Be sure to link up so I can read all about the fun you had at prom!