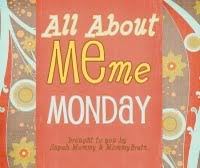 It's been said that
a picture is worth
a thousand words
.
Well, prove it.
Turn the camera on yourself ... post
a self-portrait
...
a portrait of yourself created by yourself
or write
a thousand words*
about yourself
and use
Wordle
to create a word picture - so cool!
*give or take a few hundred
Your choice.
---------------------------------------------
Earlier today I was on a mission to take a new and fabulous self-portrait. I set up my camera. I made a background from a blanket tossed over the side of the crib ... the nursery has great light in the late afternoon. And the results were okay, but the photo seemed contrived. Probably because it was ... I staged it. My expression seemed fake. My eyes didn't have any of sparkle. I was feeling like option #2 was going to be my savior.

After downloading the dozen or so shots that I took, I somehow found myself looking at photos from the day CJV was born ... just over three months ago.

And then I found this photo. I knew it was the one to share. I took it myself, so it definitely qualifies as a self-portrait.
CPV had left the hospital to pick up Natalie from our friend's house and then my mom from the airport.

I remember being all alone in my room when the nurse finally brought Charlotte to me. Because of low birth weight (4 pounds 9 ounces) she spent time in the NICU to monitor her body temperature and blood sugar levels.
Just me and my beautiful baby girl, and I couldn't take my eyes off her. After months of worry, I had my daughter in my arms. This tiny bundle - three swaddle blankets - was so content to be snuggled up against me. Her face was so calm. Those first few moments together are especially precious to me because Charlotte ended up spending five days in the NICU. I had to leave my baby at the hospital and visit during the day, and it was one of the hardest things I've ever done.
Somehow I had the presence of mind to grab the camera to capture the moment. And I am so glad that I did.
This photo seems like the perfect self-portrait for this point in my life. I feel like I am most defined by my role as a mother ... and most days that's a very good thing!
---------------------------------------------
Okay, your turn! Link up so I can stop by and see your self-portrait or Wordle.