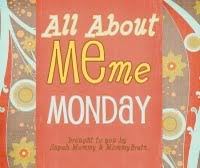 THIS ONE is inspired by a conversation between Kmama and Supah!


We're calling this one ...
I MUST Have It Monday.

Today's All About MEme is not actually about ME. (Well, I do provide a few bits of commentary ... because I can't help it, and it is MY blog, after all!)
It's about her ...
(younger, hotter, sassier, ... related to me)
This week - after seeing Supah's delightful prompt - I quickly contacted my my
little sister
(via Facebook - that's a guaranteed way to get a response)
and coerced her into
guest blogging
because ...
she's awesome and adorable and agreeable - I just know you all would love her!
she's too busy with three kiddos - including two boys who might as well be Irish Twins - to have a blog of her own, although it would be the fantastic!
she's a good writer but doesn't often make the time to write (without a little prodding from me)
and most importantly,
she has a great story about ...
I was all of 3 years old. Actually, "I used to be 3 but now I'm 2," or so I told everyone at Disney so proudly. My parents - being the money savvy couple that they are - saw a golden opportunity not to have to pay admission for me. Go, mom and dad! A decision that led to much confusion about my age for several years after ;) (I remember feeling guilty about lying to the nice Disney people; I was sure we were going to get into trouble for that little white lie ... Mickey was going to track us down and boot us out with his unnaturally large feet!)
So back to the jelly shoes. All I wanted was a pair of jelly shoes. I begged, I pleaded for those plastic shoes.
I mean who wouldn't want jelly shoes? They were like walking on little clouds of gel yet they weren't restrictive to your feet due to their clever sandal design. (She really just wanted them because they were pink and sparkly ... as any three year old would.)
After wanted those jellies for what seemed like forever
(it was probably a few days, but to a three year old - that's an eternity),
my mom decided I needed a new pair of shoes for our family trip. We were headed to Disney World and our first time seeing the ocean ... aka 16 hours both ways in a car with 2 parents and 3 kids..
(Yeah, and we were traveling in a MacDaddy motor home from Illinois to Florida!)
Anyway, there they were on the shelf
(at Dollar General?*)
in their perfect jelly molded splendiferous-ness
(nice word, sis!)
. I slid my foot into them and it was a perfect match from then on out.
(Did it remind you of Cinderella?)
The story takes a dark turn after this...please bare with me as this is an emotionally scarring childhood memory. (and this is why I wanted her to tell this story!)
Fast forward the hours of driving ... we arrive at the beach. My first time at the beach ever. We excitedly hop out of the car and dash toward the water. The warm sand squished between my toes and through my beloved jelly shoes. My older sister (Hey, that's me!) and brother got to the water and splash around. I was a little scared so I stayed back...inching my way closer and closer to the water.
At last I got close enough for the waves to splash onto my feet. Ahhhh! I must be the luckiest kid in the world right now I thought to myself! (Mainly because her big sister was/is the bomb diggety!)
Feeling a little braver, I ventured out a bit further into the waves. Maybe just a foot too far because the next wave crashed into me knocking me fall flat on my hiney (What a cute hiney it was/is!). The next wave rushed on top of me and as I stood up and retreated toward safer ground, I felt something wasn't right.
I looked down at my feet. NO! NO! NO! This couldn't be happening to me.
One of my jellies - the ones I had begged and pleaded for my mom to buy for me - GONE. Sucked off of my little foot by the undertow. Forever lost to the sea. It was a jelly tragedy. (followed by a huge freakin' tantrum, if memory serves me correctly!)
But I cherish what short time that I had with my jellies
(and seeing the ocean was pretty cool, too, right?).
And I must say that since they are coming back in style now I may just have to get my daughter a pair.
(There's nothing quite like living vicariously through your own offspring!)
-----------------------------------------------------
Thank you, little sis, for agreeing to share your story ... and for allowing me the liberty of adding my own personal thoughts on your childhood memories. I love you, Laura!
* as a sidenote and a shout-out to my younger brother, Randy ... don't want to start sibling rivalry up in here ... we once made up a song about the cheap shoes my mom bought for us, and it went a little something like this ... the creativity is almost as astounding as the fact that I still remember this stupid song ...
Those shoe. Those shoes
Those Dollah General shoes.
They scream. They hollah!
They only cost one dollah!
----------------------------------------------------
Now it's time to provide us with hours of reading and commenting enjoyment ... link up!