Recap:
Chitown Momma
, who remains blogless,
and I teamed up - under the name
SugarMommas
to play
Supah's Survivors
.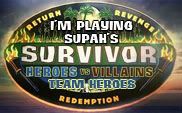 Part One of the game involved choosing a Survivor player ... we I chose Sugar. If your player is the Ultimate Survivor, you win all these crazy incredible prizes from Supah's sponsors. You can check out the sponsors in the scrolly-thing on the right side. Anyway, that part of the game pretty much sucked for us because Sugar was the first player voted out. :(
But there's still ...
Part Two
, a weekly challenged posed by Supah and her host/sidekick, Harv Spitenstein. Well, we totally ROCKED the
first week's challenge
and won IMMUNITY for the entire HEROES TRIBE!
Click here
to read or "acceptance speech" and see our clever Valentine.

The Week 2 Challenge was to create an html BUFF-on (aka a button) to represent our Supah's Survivor (not-so-secret) identity.


Once again, ours was a true tag-team effort. I sent Chitown Momma a photo that made me a) laugh and b) think of a great idea for a future Halloween costume ;) In return, Chitown Momma sent me a bunch of one-liners to go along with our theme. Then I spent all of nap time yesterday and worked my tail off and cursed a bunch figured out how to make PhotoShop do what I wanted ...and VIOLA! And, well, POW!
It's a thong. It's a sassy smile. It's Supah Hero-Hoes!
Here we come to save the day, Supah Hero-Hoes are on the way!
Much like our very own SupahMommy ...
We're wives, we're mothers (of two kids each), we're (former) teachers, ... we
do it all
on a daily basis with a smile on our faces (most of the time). That classifies us as super heroes, right? But don't let our oh-so-nice alter egos fool ya ... we're plenty naughty, too! (wink, wink)
We're Supah Hero-Hoes! And we will outwit, outlast, and outplay ya' all with our feminine wiles, thigh-high boots, smokin' abs, and our bare boobies ... again if we have to!
POW! WHAM! BAM!
These Supah Hero-Hoes are here to WIN!