Chitown Momma
, who remains blogless,
and I teamed up to play
Supah's Survivors
.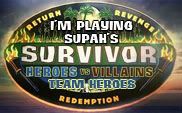 Part One of the game involved choosing a Survivor player ... we I chose Sugar. If your player is the Ultimate Survivor, you win all these crazy incredible prizes from Supah's sponsors. You can check out the sponsors in the scrolly-thing on the left side. Anyway, that part of the game pretty much sucked for us because Sugar was the first player voted out. :(
But there's still ... Part Two, a weekly challenged posed by Supah and her host/sidekick, Harv Spitenstein. This week's challenge was to make a handmade Valentine to send to Harv. It had to include a poem and be creative and what-not.
Ours was a true tag-team effort. Chitown Momma gets all the credit for the poem, while I managed to track down some leopard print scrapbook paper!
Here's the final p
roduct ...
I hope you liked my boobies
I showed them on TV
In case you need a better look,
Open up and see.
Won't you be my Valentine?
I am sure you will agree
That two pairs are better than one
Especially when they're double D!
And the card ...
There's a special flap (see where it says LIFT) for Harv's Eyes Only ;)