THIS WEEKS PROMPT FOR MONDAY!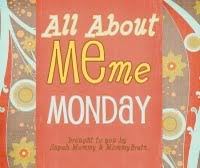 Dun... dun ... dun.. dun.. .dun...dun.. (spy song)

Your mission should you choose to accept it ...


Channel your inner Action Hero!
You inner SPY! Top Secret Stuff! We want it!
Secret Agent Man! We're throwing caution to the WIND!
CUZ we have the spy skills and spy tools to do it!



Tell us about a time that you pulled off a MISSION that seemed IMPOSSIBLE.

Tell us about a time that you tapped into your inner SPY self.

Tell us who you'd like to SPY on for a day and why!

What would your spy name be?
(Makes me wonder ... is that like a stripper name?)
Tell us which Spy Hero you love and why you'd make a good sidekick.

James Bond
Jason Bourne

Matthew McHey Hey

fine * pout face

The Mission IMpossible Guy: Ethan Hunt!
Get Smart Dude
Austin Powers
You may re-work it however you'd like. :)

Think on it and come back Monday to Link up!

This message will self-destruct in 5 seconds ...