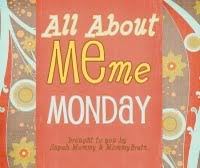 It's that time of year.
Time for the official kick-off of the holiday season. Hollah!
Time to eat some turkey and pumpkin pie.
Time to travel near and far to be with family.
Time to enjoy the pandemonium and traditions.
Time to think about ... and answer this question ...

Ugh! The obvious misspelling is making me cringe,

but it's meant to be punny, people; go with it ;)

We figure you've probably got enough going on this week.

You did realize that Thanksgiving is in just 5 days, right?

And so ... it's really that simple ... take a few minutes to think about the blessings in your life ... the things that you are thankful for, especially this year.

And then tell us your TOP FOUR.
---------------------------------------

You know how this works, right?!

Think on it and come back Monday to Link up!