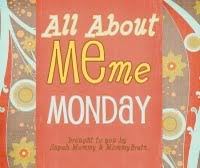 inspired by our friend Shell

and a funny story that MommyBrain can't wait to tell :)
What is YOUR WORD?
a WORD or CATCH PHRASE that you made up
or stole borrowed
or adapted or whatever
a WORD or CATCH PHRASE that you say all the time,
use in an unusual way,
makes you laugh or feel clever.
a WORD or CATCH PHRASE that you've redefined
or that has come to mean something different
because of your kids or your job
--------------------------------------------------------
You've arrived at the "C" section of the MommyBrain New Word Dictionary ...
Chottie - [cha-tee] - noun - origin: dorm room, the college years
1. female body part; area covered by your danties




2. roommate, friend



My chotties took me out to a local bar for my first PCCC (Post Chottie Check Celebration). *Chottie Check refers to an exam in which a doctor (or nurse practitioner) takes a peek under the hood.

La-tee-da-tee, we likes to party. Leave a message for your favorite chottie.

*True story --> We recorded that as our answering machine message!



After giving birth, my chottie was all yottie-yottie.

*If you gave birth naturally, you know what I'm saying!
I have no idea how this got started. Nor do I know why it can be used in such a varied way. But I do know that my college friends (my chotties) and I still use it today.
Crack-ccess - [krak-
ses′] - noun - origin: bathroom while bathing toddler
1.

the privilege of gaining access to a butt crack for cleaning purposes

While changing a poopy diaper, momma needs a little crack-ccess to make sure there aren't any stinky remnants.

During bath time, I have to ask my daughter for crack-ccess, and use the wash cloth to clean those stinky creases!
CUD
- [kud] - abbr.
C
lean
U
p
D
uty - origin: early married life
1. responsibility for cleaning up the kitchen after dinner has been prepared and eaten.


If I make dinner, my husband does CUD.

*That's how we roll up in har!
This has been a sampling of words I've made up or used for a new purpose. Making up words is a habit of mine, and I am so looking forward to gaining a few new ones during this week's MEme!
---------------------------------------------------------